Special ICFA Visual Convertion Report
We just created and published another "Visual Convention Report" this time showing the Monuments displayed at the ICFA Annual Convention in Houston, TX. We hope you will take the time to see the new designs and styles of memorials which were shown at the convention. Click here to view the pictures.
---
Monu-Cad Pro for Windows '95-98 Progress Report

As many of you know, Monu-Cad Pro is available for downloading here on this website. We just recently uploaded the latest version 2.00.135 for your operating enjoyment. The development continues at a fast clip with new features becoming available weekly. Visit this site often to see the latest in Monu-Cad Pro developments.
In addition, we just finished a BETA version of MCPro with our exclusive thumbnail file selector/database search engine front end. To test public reaction and acceptance, we have uploaded it to our MCPro download page for you to look over and comment on. Go to the link below to download the program.
Click Here to View Screen Shots of Monu-Cad Pro
Click Here To Download MCPro! ... Click Here
5-12-99
We just uploaded version 2.00.138 of MCPro for downloading. Click here for download and to read about new features and improvements.
5-11-99 MCPro Update
We are currently polishing Version 2.00.137 for upload. A few more days work and we'll have it for you.
We have also added a new feature to MonuCut95 which will be included in the download. Till then....
4-12-99 MCPro Update
We realize that all are in Memorial Day Season and that time to "play" with MCPro is limited. However, for those of you who are still finding the time to help us with feedback, thanks for your continued efforts.
Judging from the comments on the thumbnails, I guess that it is a winner! We had hoped so!
Right now, we are smoothing and polishing the feel of MCPro and fixing a lot of little bugs which you have pointed out. This is the time during the development of software where a lot of time is spent on much needed work but the final result doesn't show up as something which is spectacular and readily visible in the way that the thumbnails and rotation/sizing impress you. However, it must be done and now is the time. We will release another version when this has been done.
We plan to continue releasing versions ever 3 weeks or so until all this development is behind us. Check back here often!
4-22-99
We released 2 versions of MCPro this week ver. .134 and ver. .135. Progress continues cleaning up the little things that users are reporting as annoying bugs and any actual deficiencies in the program. We are pleased with the results. Feedback on the Cutter output improvements has been most encouraging with all users reporting much faster speeds, legibility and quality. One very heavy user reported that the speed is in his opinion is faster then Monu-Cad for DOS! One by one, we are adding the missing commands and making improvements. The only thing that disappoints us is the length of time this is taking. We wanted to be further along by now.......but...I guess "Rome wasn't built in a day"! One thing I think you know, come hell or high water, this dream and goal will be met! At Monu-Cad, I do not allow the word "impossible" to be openly mentioned!
On the funny side, I got Flamed yesterday on the ROA stock message board at Yahoo by someone called ROCKMAN for not spending enough time on developing MCPro! I guess some people just don't get the word!
Read Comments from MCPro Users
---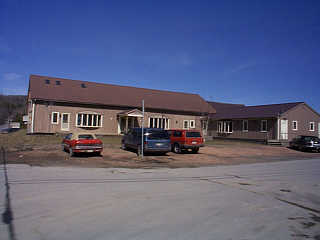 Cherry Valley 4-6-99...see! it gets better!
Can you afford to waste Stencil?
What is the biggest expense in your shop? Lets all hear it now! Stencil! You buy it, use it once and throw it away! At between $1.70 - $2.00 per square foot, that is a big expense!
---
The Facts
A 25" roll costs $106.00 today a 30" roll costs $127.00 today (2-7-99)
18 rolls of 25" costs $1,908.00 18 rolls of 30" costs $2,286.00
The difference is $378.00 or just about 20%
Our largest competitor's vinyl cutter cannot use 25" stencil! Only 30"
(and can only cut 27" of the 30" width)
(If you make 500 2-0 x 1-0 grass markers per year you will use (500 / 29 = 17.24) or 18 rolls of stencil on those markers. (18) 30" rolls costs $2,286.00 (18) 25" rolls costs $1,908.00. That's a difference of $378.00 (19.81%).)
---
What size stencil do you normally use? Exactly! 25 inch!
What does this mean? It means that the increased stencil cost will very soon wipe out any price savings one might realize from purchasing a system from the big sign maker.
If we round the percentage to 20%, then a larger user who consumes 700 rolls of stencil each year could find a difference of $18,000.00 per year. For the difference in the cost of stencil, a larger user could afford to buy a whole new system each year with the stencil savings alone! And, as a bonus, our cutter is 4 times as fast!
For Monument Work, the Monu-Cad cutter saves 20% in stencil costs over the big sign maker's vinyl cutter! Another benefit from purchasing a system that has been designed by and for the monument industry.
So... when you get a postcard from a certain supplier promoting the big sign maker system, remember that he also sells stencil.
---