MBNA CAD "Shoot-out"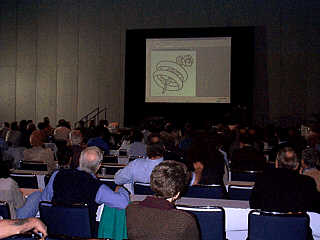 At the MBNA Convention in Charlotte, NC on Wed. Jan, 27,1999, from 2-6 PM, a CAD "shoot-out" or side by side CAD system comparison exhibition was held. Participants attending were (from left to right on stage) Gerber, Cochran, Steckman, Monu-Cad and Monutec. The moderator, Mike Johns Jr., had prepared a number of common tasks that Monument Manufacturers need to perform daily and requested that each participant perform the task individually and explain step by step the procedure to the observing Monument Dealers. All the participant's computers were connected to a wide screen projector as shown above so that everyone had a clear view. Several hundred Monument Dealers representing Monument Companies from the USA, Canada and several other countries attended.
The tasks presented included a demonstration of scanning input of designs, laying out a monument, placing lettering on a monument, lettering on an arc, panel creation and modification of the basic layout once it had been created. Little time was allowed for demonstration of individual system strengths and features. In essence, we were all given the same tasks which today are considered to be just the basic features necessary in all CAD systems employed in this industry. There were no speed comparisons, level of difficulty comparisons, total system thru-put comparisons, quality of output comparisons or cost and after support comparisons. I personally feel that an observer would find it difficult to decide between systems based on what was demonstrated during this shoot-out.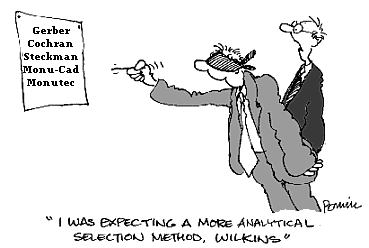 modified and presented here with permission of Roger Penwell CAD Cartoonist
Who won? I've been asked that many times. Because I was a participant and am somewhat biased I don't feel I can venture an opinion. When asked how we did I reply, "I think we did very well".
If you were present and wish to add your comments, Click Here to send a letter to the editor. I will publish your comments in unedited form (minus any naughty words) right here.
Comments From Readers on Shoot-out more convention photos click here
I thought the form in which the problems were presented was unrealistic
and prevented the participants from showing the strengths of their
computer systems. ie Any layout person seeing a 3 foot die sold as a
triple would not start with 1 1/2 inch letters in the inscription
panels! Most, if not all, of the systems must have a method for saving
standard layouts, something that they could build on rather than
starting by loading the die, then adding the lettering, then the
design... It would have been much more informative to give each
participant a similar layout task then let them talk and demonstrate
their approach to that task. I didn't feel as if any of the computers
with which I am unfamiliar looked very desirable, but then, even the one
I use daily and really like looked much, much more difficult to use than
I find it to be in real life!

Kyle MacKay Rives 2-9-99
---
To: Monu-Cad, Attention Jim 2-10-1999
From: R. Kevin Bloemker, President
Nebraska Memorials, Inc.
c/o Fremont Monument Company
235 W. Military Ave.
Fremont, Nebraska 68025
Re: Computer "Shoot-Out" 1999 MBNA National Convention
The bus load of people I accompanied leaving early from the computer "Shoot-Out" was evidence enough that it was a "Blow-Out". Poor planning, together with a lack of printed information for the audience, forced us to struggle as we tried to follow a verbal dialog. The moderator jumped randomly from competitor to competitor (whoever they were??), while repetitious demonstrations wasted valuable time. Finally, a worthless debate on how to engrave death dates, which is a design problem and has nothing to do with computer technology, started people heading for the exits. What a sad climax to an event that should have been so beneficial for our small industry! Who won? We all Lost!
---
Jim: 2-12-1999

I too was disappointed in the format of the shootout. Had I been a potential
customer for a CAD system, I found no information to help me decide on which
system would best fit my needs. As a very satisfied customer of the Monu-Cad
system going into our 10th year, I was hoping to see a more of what each
system had to offer. I hope that these comments will be forwarded to MBNA and
that if something similar is planned in the future, each participant will be
given time to show system strengths and take questions from the audience.

Bob Landry, Jr.
President
Amite Marble & Granite, Inc.
Amite, LA 70422
---


OK Guys! Here is the place reserved for the comments. It's now up to you! Speak up!
more convention photos click here
---
Read about the Oakwood Military Cemetery Scandal
Former Richmond, VA Mayor and Current Councilman is Convicted by Federal District Attorney in City Cemetery Scandal ... facing prison time
Click on the photo or this link to read the article
---
User Showcase
We have a page here on our site dedicated to displaying pictures of our users installations. Many of you have built very nice Monu-Cad operating rooms. We would really like to show off your installation to other users. Please mail in or email a photo of your Monu-Cad setup room and we will put it on the showcase page along with your company information and even add a link to your web site! Click Here to go to User Showcase page
---
Retail User page
We would like to build a page on this site which contains links to the sites of Retail Monument Dealers every where. If you are a Retail Monument Dealer and have a web site, drop me a note and I will add a site Link to this page. email URL link to Monu-Cad
---
WorkSaver Keyboard Sales
Many of you are familiar with the MCK-142 WorkSaver programmable keyboard that we have included with our Monu-Cad systems for years. We dedicated a page to it here on our website and have been selling it "like hot cakes"! If you are interested in what may be considered to be the greatest keyboard ever made for use on any of your PC computers, click on this link and take a look. Goto WorkSaver Keyboard
---
Letters From Our Readers
We have been receiving a steady stream of e-mails from our readers which have been most encouraging! Thanks to all for their comments and well wishes. We will strive to continue to deserve your praise. read letters to editor