Home
Monumental Computer Applications
Inc.
9 Genesee St.
Cherry Valley, N. Y.
USA 13320
607-264-3611
607-264-3307 FAX

® Pro
"At Monu-Cad, Simple and Easy are our main concerns!"
Monu-Cad Pro Version 7.09 is the only fully 32 bit Windows 95-98-NT-2000-XP, CAD (Computer Assisted Design) program (world wide) created from the ground up specifically to design, layout, personalize, and create stencil masks for the Manufacture of Cemetery Memorials. Scale and Full Size drawing creation for customer approval and point of sale presentation is as simple as it can be.
Monu-Cad Pro combines the power of Monu-Cad Software with the ease of use of the Windows Operating System!

Monu-Cad Pro includes state of the art features such as:
"Click & Type"® our super easy to use Monument Lettering System
Just move the mouse cursor to where you would like the lettering placed, click the button, type in the lettering and click OK!

Dynamic Auto-Size Panels - Auto Creation and modification of a wide variety of panel types which expand and resize depending on the number of letters, spacing and letter size. Book, ribbon and scroll panel creation is currently under development and will be added to future versions.

Visual and easy to use movement, copying, rotating, imaging, editing and scaling of design commands

Complete dynamic visual editing tool commands which allow precise and full control over every design aspect

Fast One Step Printing

Simple One Step Stencil Cutting

Easy to learn and use 2 letter command structure as well as Standard Windows easy to use drop down menu system

MonuCut95 cutting control program which allows unattended operation of the stencil cutter even 24 hr/day operation!

Quick and simple 1 step design sorting / optimization for maximum cutter speed and smoothness of cut

Versatile drawing editing functions with the ability to edit designs down to the smallest line, arc, circle, Bezier, complex curve, or ellipse. Make new designs from others and create new ones. Sandblast line offset functions are also included.

Window Weld command allows joining two items together with minimal effort. Place praying hands on top of a cross and automatically join them to make a composite of the two.

Unique user controlled Security System built right into the program to prevent unauthorized use or copying of your monument designs

Ability to support multiple Monu-Cad Lite! point of sale design stations with transfer of finished layout by modem from point of sale site to manufacturing location with complete security and control

A Living Monu-Cad program which means that it is expanded and improved in an ongoing effort to provide you with the latest, up to date state of the art features with just a simple Internet download

Includes up to 13,600 pre made monument designs, emblems and artwork and over 90 Monument Specific Alphabets

True Type Font Import feature allows you to bring literally thousands of Windows fonts into the Monu-Cad system and use them with our Click & Type quick lettering system including extended character usage.

simple on screen visual inter-letter spacing adjust feature.

1024 Layers Feature

Color Fills and Hatching Feature

Linear and Angular Dimensioning Feature

Convert straight line drawings to lines and arcs Feature

Convert Bezier Curves to Arcs Feature

Convert Arcs to Bezier Feature

Drawing Clean Feature to remove duplicate entities
Design Scanning - high speed design input system which really works with little if any clean up! Enter any SB design easily and quickly into the system that you choose to! Raster to Vector conversion at it's best!

Complete compliment of drawing tools including lines, arcs, circles, complex curves, Bezier curves, ellipses, rectangles

Built in Auto Outline and Inline functions. These features simplify changing sandblast line widths and adding new sandblast lines to both lettering and carvings.

Built in File Import allows importing files from previous MSDOS versions of Monu-Cad as well as .AI, HPGL, WMF and .DXF files from other software. More import options are planned for future versions. Now your Monu-Cad system can easily make use of the millions of designs freely available on the internet, in CD design catalogs and from subscription services.

Build in File Export allows exporting images to the Windows clipboard, to file or directly to email messages for sending approval drawings by the internet. DXF vector file export is also supported.

Tangent Arc Drawing Command for smooth and precise drawing.

Ortho Angle command for simple creation of 3D type drawings.

Vastly improved full size plotter/printer support

Unique Adjust Letter feature makes adjusting space between letter pairs visually easy and precise.

Completely versatile lettering group rotation and placement features.

Support Multiple Monu-Cad Lite! point of sale design stations easily and inexpensively. The best way to equip your modern sales force.

Thumbnail file image selection option. See what is in the file you are about to load in before you take the time to load it. Great for seeing first what the cross or emblem you are about to place on the memorial "looks like".

Data Base Driven, Thumbnail Powered artwork organization and selection feature allows for instant recall of any design from the expansive variety of designs. In seconds command it to show you thumbnails of all the crosses in your system 5" tall or smaller or all the fireman images which will fit on a 2-0 tall die! (optional) available standalone or Network Version.

Full 32 bit Windows Compatibility and ease of use. Will function on any Windows 95, 98, XP, NT or Win 2000 computer.

Multiple Pricing Levels depending on the degree of functionality desired and intended usage of Monu-Cad Pro. Our goal is to be able to provide a functioning Monu-Cad Pro system for every size of Monument Dealer.

All Popular Cutters Supported...Monu-Cad Pro will operate with most of the commonly available cutters in addition to the Super Reliable CSR TURBO available through Monu-Cad. If you already have a cutter Monu-Cad Pro will drive it.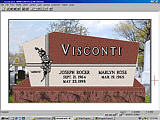 Automatic Panel Maker Wizard which automatically creates books, ribbon, straight, chip corner, rounded corner...(single and double line) and scroll panels and allows you to visually make adjustments and refinements

Automatic Die Maker Wizard automatically creates straight top, serp, oval and half serp top dies with visual dynamic adjustment of drop and taper

Automatic Base maker Wizard automatically creates bases of user selected size and correctly places it under the die created with the Die maker. Allows offsetting for 3-D look!

Multiple Lines of lettering on an arc with or without 3 types of single, double or hair line panels

On Screen Visual Lettering Spread Out or Compress feature allows visual adjustment of lettering till it "looks right"

Auto Trim Feature helps clean up poorly made designs

Expanded Commands Available through the Select Command feature

Automatic Letter Counting and properties features for lettering groups

Visual Scaling and Rotating on the Fly "by eye till it looks right" feature for use when creating designs

Ellipse breaking and recombining feature

Full DXF File Export option

Export Image or drawing directly to eMail message for emailing approval drawings to customers or files to manufacturer

Export image in variable sizes to .jpg, .pcx, .tif & .png file formats or directly to the Windows Clipboard

Cut and Paste Text from Word Processor to Monu-Cad or from Monu-Cad to Word Processor feature. Saves time and insures text accuracy.

Drawing Clean Command finds duplicate items and automatically removes them to prevent double cutting.

Leader Command for annotating drawing with special comments and or specifications

Expanded HPGL, .AI, .WMF, .DXF, .DWG, .GCD file import for transferring drawings from other programs

Explode All Command to facilitate exporting of drawings

New MCScan Program option for scanning in and converting images to vectors

Improved Fillet Command for automatically creating round corners

Black or White Draw Screen Background Option

Dynamic Zoom In/Out with Scroll Wheel Mouse

Dynamic Pan with Scroll Wheel Mouse

New S2 Snap Mid Between 2 Points Command

New S5 Snap Percentage Command

New Trace Image Command (trace over color photo, scan or digital camera image)

New Ability to change Reference Point Color (color blind option)

New Ability to change Drag Image Color (color blind option)

New Ability to change color of Selected Object (SE and Window Commands)

Alt-C pops up Advanced Kern dialog

WM-improved with easy snap guide

Gerber .PLT File Format Import added

.ROA File Format Import added
New Thumbnail Database option to drag and drop multiple files with on the fly Database update function

"Dream" Command (ability to scale and rotate components on the fly before placing them

Built in Email Bug report command
Launch this help manual from menu or F1 key option on config menu

Numbered Backup Save option added to DS command

Option to "tile" output for flatbed plotters (DC command)

Color Output for Sandman Auto Blast Curtain

Mirror Command added to SE Selection Menu

New "Windows Explorer Style" text file selector option with sorting and right click thumbnail features

Improved Arc recognition for easier Window Fills

L2 Double Line command and DB line settings commands added

Visual Font Selection Preview



Left-Center-Right Justification option

Single Line panel bottom option

Visual feedback on lettering measurements and parameters "by the numbers"

Lettering Cut and Paste from Word DOC and other files

Clipboard Save and Paste features

1:1 ratio full size raster file save for Laser Etchers

Font selection from a master server installation

The features and software development in Monu-Cad Pro continues on a daily basis. New features are constantly being added. Check this page often for the latest developments!
---
Prices for the various different levels of Monu-Cad Pro are presently being re-formulated. Basic Monu-Cad Pro non stencil cutting software packages begin at $1,999.00 and Entry Level Manufacturing packages with 30" cutter at only $9,995.00!
Competitive upgrade packages are available for users of other software products and "trade in / trade up" discounts are also available.
Annual software "rental" packages are now an option. Pricing begins at $899.00/yr.
Please call toll free
1-877-MONUCAD
(1-877-666-8223)
for the most current pricing information or send email to sales@monu-cad.com
Trade in offers for owners of competing software products are now available.
Call for details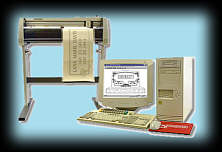 To See Our New Entry Level System priced at $9,995.00 Click Here

Web design and Graphics by Monu-Cad
Copyright © 2014 Monumental Computer Applications, Inc. All rights reserved.