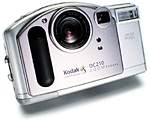 All of these shots were taken with a Kodak DC210 digital camera. (Click on camera for more camera info.) The shots were taken under poor lighting conditions on 6-10-98 at around 5 pm in the afternoon. The sky was overcast with occasional sun. Since the camera had arrived only an hour before, there was little preparation and basically I was in a rush to beat the dwindling light. (a great test!<g>)
The images were shot at HIGH resolution (1152 x 864) setting. After downloading the images to my computer, the images were resized to 640 x 480 75dpi with no touch up. Finally, the images were compressed 10:1 and saved in a .JPG format to make them download faster over the internet.
I am pleased with the DC210 and best yet, I got it for $558.00! This sweetheart has been selling for $899.00 for a long time. This camera is the ideal companion to our Flip Chart Program and Monu-Cad Lite!
Click on the links and the images will appear in a separate window. Click on the BACK ARROW button on your browser after viewing to return and then click on the next link to view the next picture. (These images are fairly large. Please expect a download time of 20 sec. or so for each ... Jim) All images are Copyright 1998, All rights reserved.
The Panorama above does not work
correctly with some browsers.
While You're Browsing, Play a little Music!