®
1986 - 2014
Pioneers in Desktop Memorial Design and Manufacturing



Products The Company What's New Links Download
Manufacturing Systems Turbo Stencil Cutter Monu-Cad Mfg. & Sale Programs
Click on Images Above For More Details
Superior Affordable Computer Systems and State of the Art Software for
the point of sale and manufacture of Cemetery Monuments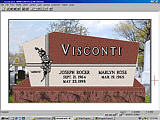 New Color Rendering Software. Click Here!!

Thank you for taking the time to visit our Web Site.
We hope that your visit will be informative and helpful.
Any comments or suggestions you may have will be appreciated.
This site is viewed best at 800 x 600 resolution
Visit Historic Cherry Valley, N.Y.
the only town massacred in the American Revolution
and the birthplace of the Information Super Highway!
Design and Graphics by Monu-Cad
Copyright © 2014 Monumental Computer Applications, Inc.
All rights reserved.